Why Buy a Used Car Deemed Certified Pre-Owned by Blaise Alexander Subaru in Williamsport?
There are many reasons why buying a used car can be beneficial, such as saving money. However, some people are hesitant to buy a used car, SUV, truck or van because they think it will end up costing them more money in auto service and car repair work. Eliminate doubt and buy a certified pre-owned car from Blaise Alexander Subaru in Williamsport. Below we have outlined the details and benefits you will receive when you buy a certified pre-owned vehicle at our dealership in Williamsport. If you have any questions about what makes our certified pre-owned inventory better than the rest, please contact us at any time!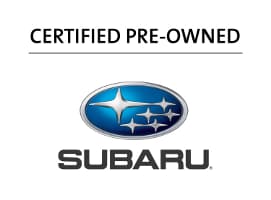 Why Should You Buy a Used Subaru Certified Pre-Owned Subaru?
Here Is Why:
1. Only Subaru Used vehicles under 5 years or 80,000 miles qualify.         
2. Every Subaru received a Carfax Vehicle History Report to further determine eligibility.  Only the Used Subaru's with a clean Carfax vehicle history report will qualify.  A Used Subaru is deemed ineligible for the Subaru Certified Pre-Owned program if the Carfax Vehicle History Report contains any of the following:
Salvage Title
Junk Title
Rebuilt/Reconstructed Title
Dismantled Title
Loss Due To Fire Title
Hail Damage Title
Flood Title

Fire Damage Record
Not Actual Mileage Title
Exceeds Mechanical Limits
Odometer Rollback
Grey Market Vehicle
Major Accident Damage
Salvage Auction

3. All Eligible vehicles must pass a rigorous
152 Point Inspection
.
4. All failed items from the inspection must be corrected within specifications.
5. Every Certified Pre-Owned Used Subaru receives a 6 year or 100,000 mile Powertrain plan standard with a zero $ deductible, and Roadside Assistance at NO CHARGE!


The Powertrain Plan Covers
ENGINE:  Engine Block, cylinder heads, all internal lubricated parts, camshaft, drive belts, intake manifold, flywheel, valve covers, oil sending unit, oil pan, oil pump, motor mounts, seals and gaskets, turbocharger assembly and fuel injection system.
ALL-WHEEL DRIVE: Final drive housing/rear differential assembly, all internal parts, axle shafts, constant velocity joints and boots, double offset joints, propeller shaft, center support bearings, universal joints, wheel bearings and spindle, rear torsion bars and control arms, hub bearings, seals and gaskets.
TRANSMISSION: Transaxle case, all internal parts, torque converter, transmission mounts, seals and gaskets.
TOWING AND RENTAL CAR: For a covered failure, Subaru will pay you up to $100 per occurrence.
Rental Car: If your car is kept in the shop overnight for a covered failure, Subaru will pay you up to $35 a day toward the rental, to a maximum of $175 for each disablement.


24-HOUR ROADSIDE ASSISTANCE:
"Sign and Drive" service up to $100 per disablement to get you back on the road as quickly as possible with no out-of-pocket expense.
Emergency Dispatch Towing for covered warranty or Added Security breakdowns.
Emergency on-site road service for a jump start, gasoline delivery, tire change (with your good spare) and other minor repairs.
Emergency lockout or locksmith service.
Computerized trip routing and much more!


6. Finally, a $500 Subaru Loyalty Coupon valid towards the purchase or lease of your next new, or previously untitled Subaru, comes with every Subaru Used Certified Pre-Owned purchase!
Another added benefit to buying a Used Subaru Certified Pre-Owned Subaru is the money you can save over a brand new car and still get one of the best cars on the market today.  94% of all Subarus sold within the past 10 years are still on the road today!

Check out our Used Subaru Certified Pre-Owned Subarus! Subaru Certified Pre-Owned