The 2022 Subaru Love Promise Customer and Community Commitment Award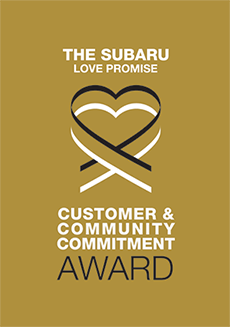 We've been nationally recognized for our dedication to our customers, our community, and the Subaru Love Promise.
We're honored to receive the 2022 Subaru Love Promise Customer and Community Commitment Award. This award nationally recognizes elite Subaru retailers who provide an exceptional customer experience at every interaction with Subaru. These retailers have also demonstrated an outstanding commitment to supporting passions and causes in their local communities in important areas such as the environment, community, health, education, and pets.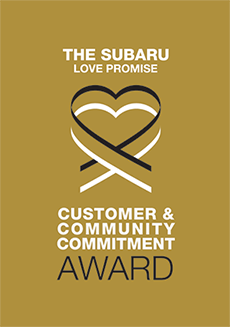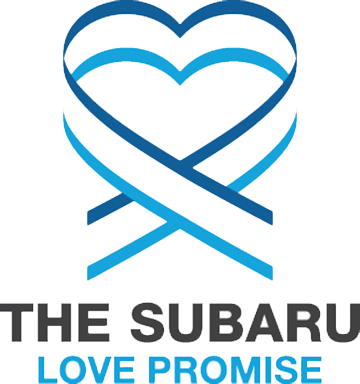 What is the Subaru Love Promise?
Subaru and our retailers believe in making the world a better place and the Subaru Love Promise is our vision of respecting all people. This is our commitment to show love and respect to our customers and to work to make a positive impact in the world.
How is Blaise Alexander Subaru Montoursville dedicated locally to the Love Promise?
Our Love Promise can be seen in various partnerships with local charities and non-profits. We're grateful for the opportunity, not only to be a part of our community, but to serve it as well.
LYCOMING COUNTY SPCA, Clinton County SPCA
Central Mountain Middle School , Loyalsock School District, Renovo School District, Jersey Shore School District
MARINE CORPS TOYS FOR TOTS, CLINTON COUNTY UNITED WAY
Love Promise Stories from Blaise Alexander Subaru Montoursville
Subaru and Blaise Alexander Subaru Montoursville believe in making a positive impact on the communities in which we live and work. We uphold that belief through our Love Promise Community Commitment. Every month, we select inspiring stories from customers and partners from around our area who strive to support our collective commitment and feature them here
Loves to Learn Central Mountain Middle School - Alexander S
This was a fun year for Loves to Learn. The staff at Central Mountain Middle School made the best of the donation boxes. From books to new seating, to a wealth of new supplies for the kids to enhance learning throughout the year. Thank you so much.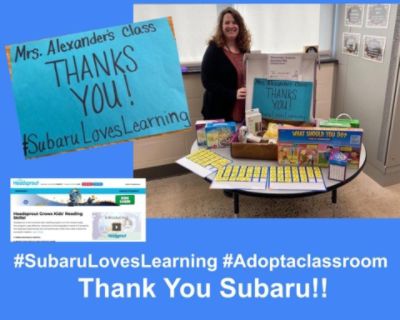 ---
Blaise Alexander Delivers 70 Blankets to Hillman Cancer Center - Danielle L
On July 5th, 2022, The Leukemia and Lymphoma Society teamed up with Blaise Alexander Subaru to deliver seven boxes of blankets to the UPMC Hillman Cancer Center in Williamsport, PA as part of the Subaru Loves to Care Program. The Hillman Cancer Center provides care to more than 140,000 people each year. In 2021 the Williamsport location completed a multi-million-dollar expansion with over 10,000 square feet and 28 chemotherapy bays that better equips them to serve the 45,000 procedures done annually just at this location. Blaise Alexander Subaru is proud to be a partner in the Subaru Loves to Care program to help provide warmth and care to patients who are going through treatment. Along with the 70 blankets, the team also delivered messages of hope to provide words of encouragement for everyone. They believe that everyone deserves to lead a happy and healthy life with experiences. That is why they stay committed to helping those in their communities stay as healthy as possible.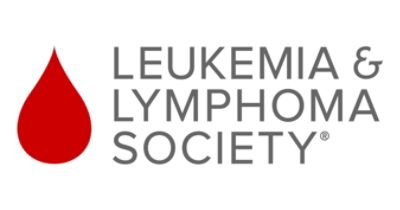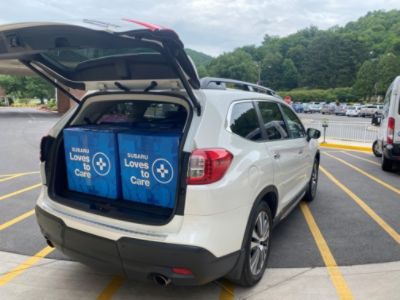 ---
Living Unlimited Inc - Johanna S
"A month ago, I explored the community in hopes to find an accommodating employer who would be open to allowing my client, Joel, to come in and volunteer some of his time to build employment skills and potentially identify the right job fit for him. Little did we know that Montoursville Subaru would welcome us into their supportive family. When we first stopped into the dealership, we met Nate Allen. Nate was so kind and allowed Joel the opportunity to demonstrate his work skills by assisting with various tasks within the dealership such as making fresh coffee, keeping the windows crystal clear, and stocking the fridge with refreshments for customers and employees. On the first day that we arrived, Joel and I were greeted by so many kind and welcoming employees. One of those employees being Erica Rebe. Erica and Joel immediately developed a great rapport with one another. One of the kindest gestures that Erica did for Joel, was create him an individual space to keep his work supplies. This small gesture instilled so much confidence in Joel as he proudly jokes that "this is his spot no one can touch!" Joel's mother shared that Joel getting out into the community with his job coach is the highlight of his week. She also shared that she has been touched by the Subaru family as she is able to see her son blossom into the Subaru family. We can't thank Montoursville Subaru and the Subaru family enough for going above and beyond to welcome and accommodate us."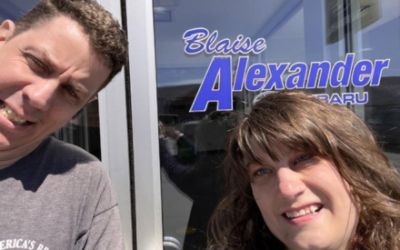 ---
Share the Love 2022 - Jason M
Blaise Alexander Subaru is a proud sponsor of Raise the Region! Each year Subaru of America offers it's Share the Love Event in partnership with their local retailers. When a new Subaru is purchased at Blaise Alexander Subaru, the customer can choose one of five organizations to support. As the local nonprofit representative, FCFP uses the proceeds from Subaru's Share the Love Event to support with more than 300 nonprofit who participate in Raise the Region.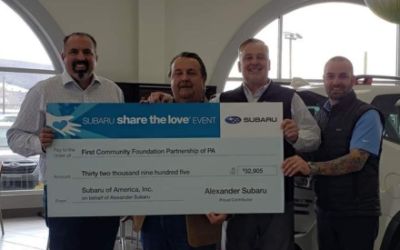 ---
Random Acts of Kindness - Whitnie H
This year for Random Acts of Kindness Day (Feb 17th), Alexander Subaru celebrated all week-long and raised donations for their furry friends at Clinton County S.P.C.A.! The dealership is passionately involved in their community and acted quickly when they found out there were some desperate needs at this organization. The team quickly rallied up and worked with a local PetSmart to host a "Pop-Up Drop-Off Donation Drive" one evening last week. At this event alone, over 30 bags of cat and dog food was collected along with several toys and pet accessories. The Subaru Team continued to accept donations inside the dealership located in Montoursville, PA for the entire week. Thanks to several generous donations, they filled an entire Subaru Ascent! This 3rd row vehicle was packed to the ceiling with dog and cat food, kitty litter, dog and cat treats, leashes, toys, flea & tick spray and so much more! We are very proud of the team at Alexander Subaru and their continued support and awareness for their community's needs.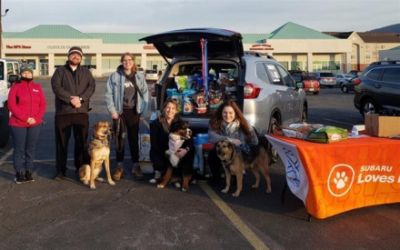 ---
WAHS Adopt a Classroom News Release 2021 - Erica R
A great year for Williamsport Area High School and so happy at Alexander Subaru to share this wonderful opportunity with our local high school and the district children who benefitted this year. Thank you to All the Teachers that participated! Hope 2022 is great year for the new students!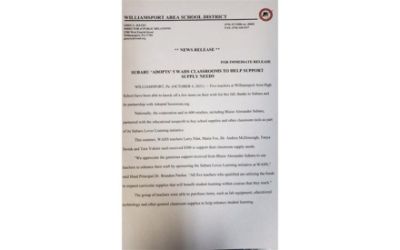 ---
Holiday Cheer from YMCA Silver Sneakers ! - Erica R
Love spreading the Holiday Cheer, our local Eastern Lycoming YMCA Silver Sneakers decided to share a little cheer with Alexander Subaru! It is as always great working with you and keep up the great work you do!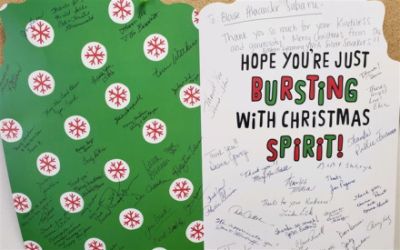 ---
Subaru Loves Pets 2021 - Marissa H
Rocky is very grateful that Subaru of America & Alexander Subaru is sponsoring the Clinton County SPCA with donations, lots of wish list items like food and treats, and Subaru car toys for him and all of his shelter friends! Rocky the 5 year old Dalmatian/Schnauzer mix is looking for a forever home! Thank you to our good friends at Subaru of America & Alexander Subaru for sponsoring the Clinton County SPCA and for their continuous support over the years!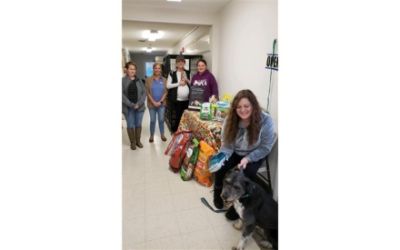 ---
Alexander Subaru: Keeping the community warm - Kendra P
Annually there are over 1,000 individuals experiencing homelessness in our community. This figure includes men, women, and children. American Rescue Workers (ARW), a non-profit in Williamsport since 1934, has been caring holistically for men, women, and children through three shelter programs as they find themselves in a homeless crisis. As a non-profit, it is vital for ARW to have the support of our community in order to continue serving those in need year after year. We could not be more thankful that our community includes Alexander Subaru. This is the second year that our organization has received blankets, and now socks, from Alexander Subaru for the individuals that we assist. Those that come to stay in our shelter programs often times only have the clothes on their back. Knowing this, it is important that we meet all of their basic needs by giving them additional clothing, hygiene products, and any comfort items they may need, such as blankets. American Rescue Workers is touched that a large company like Subaru is dedicated to supporting organizations like ours, whose mission is to help our community members in need. Once again, we cannot say thank you to Alexander Subaru enough for their support!
---
Adopt a Classroom 2021 Art Class - Brandon P
For art teacher McDonough, the grant funds were used to purchase for additional supplies for her mindful art classroom. Hoberman spheres were purchased for visualizing during breathing and centering activities and two singing bowls were purchased for use in mindful listening and drawing activities," she said. "Our WAHS art students are so grateful for the support and the opportunity to use these alternative materials in the classroom studio.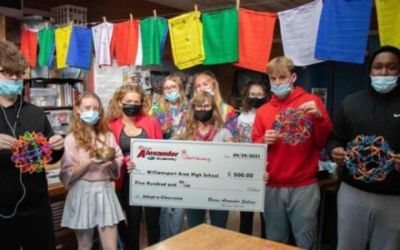 ---