The 2021 Subaru Love Promise Customer and Community Commitment Award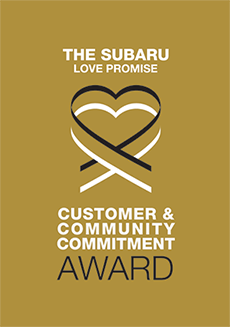 We've been nationally recognized for our dedication to our customers, our community, and the Subaru Love Promise.
We're honored to receive the 2021 Subaru Love Promise Customer and Community Commitment Award. This award nationally recognizes elite Subaru retailers who provide an exceptional customer experience at every interaction with Subaru. These retailers have also demonstrated an outstanding commitment to supporting passions and causes in their local communities in important areas such as the environment, community, health, education, and pets.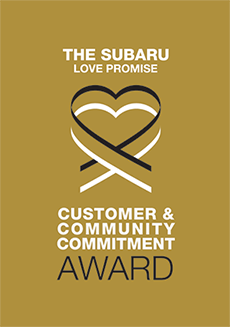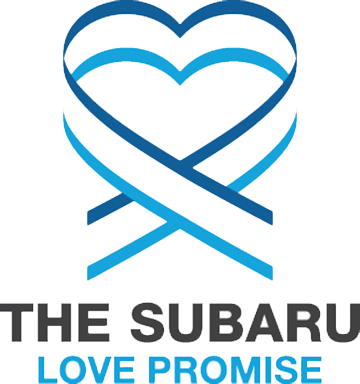 What is the Subaru Love Promise?
Subaru and our retailers believe in making the world a better place and the Subaru Love Promise is our vision of respecting all people. This is our commitment to show love and respect to our customers and to work to make a positive impact in the world.
How is Blaise Alexander Subaru Montoursville dedicated locally to the Love Promise?
Our Love Promise can be seen in various partnerships with local charities and non-profits. We're grateful for the opportunity, not only to be a part of our community, but to serve it as well.
LYCOMING COUNTY SPCA, Clinton County SPCA
Central Mountain Middle School , Loyalsock School District, Renovo School District, Jersey Shore School District
MARINE CORPS TOYS FOR TOTS, CLINTON COUNTY UNITED WAY
Love Promise Stories from Blaise Alexander Subaru Montoursville
Subaru and Blaise Alexander Subaru Montoursville believe in making a positive impact on the communities in which we live and work. We uphold that belief through our Love Promise Community Commitment. Every month, we select inspiring stories from customers and partners from around our area who strive to support our collective commitment and feature them here
Subaru Loves Pets 2021 - Marissa H
Rocky is very grateful that Subaru of America & Alexander Subaru is sponsoring the Clinton County SPCA with donations, lots of wish list items like food and treats, and Subaru car toys for him and all of his shelter friends! Rocky the 5 year old Dalmatian/Schnauzer mix is looking for a forever home! Thank you to our good friends at Subaru of America & Alexander Subaru for sponsoring the Clinton County SPCA and for their continuous support over the years!
---
Alexander Subaru: Keeping the community warm - Kendra P
Annually there are over 1,000 individuals experiencing homelessness in our community. This figure includes men, women, and children. American Rescue Workers (ARW), a non-profit in Williamsport since 1934, has been caring holistically for men, women, and children through three shelter programs as they find themselves in a homeless crisis. As a non-profit, it is vital for ARW to have the support of our community in order to continue serving those in need year after year. We could not be more thankful that our community includes Alexander Subaru. This is the second year that our organization has received blankets, and now socks, from Alexander Subaru for the individuals that we assist. Those that come to stay in our shelter programs often times only have the clothes on their back. Knowing this, it is important that we meet all of their basic needs by giving them additional clothing, hygiene products, and any comfort items they may need, such as blankets. American Rescue Workers is touched that a large company like Subaru is dedicated to supporting organizations like ours, whose mission is to help our community members in need. Once again, we cannot say thank you to Alexander Subaru enough for their support!
---
Adopt a Classroom 2021 Art Class - Brandon P
For art teacher McDonough, the grant funds were used to purchase for additional supplies for her mindful art classroom. Hoberman spheres were purchased for visualizing during breathing and centering activities and two singing bowls were purchased for use in mindful listening and drawing activities," she said. "Our WAHS art students are so grateful for the support and the opportunity to use these alternative materials in the classroom studio.
---
Adopt a Classroom 2021 Science Class II - Brandon P
We appreciate the generous support received from Blaise Alexander Subaru to our teachers to enhance their craft by sponsoring the Subaru Loves Learning initiative at WAHS, all five teachers who qualified are utilizing the funds to expand curricular supplies that will benefit student learning within courses that they teach. The group of teachers were able to purchase items such as lab equipment, educational technology, and other general classroom supplies to help enhance student learning. Our school's oceanography course is only a few years old and I'm developing new and better labs for students to better understand our world's oceans. (The funds) allowed us to develop a new rock and mineral lab that helps students learn about the composition of the ocean floor. We also used funding to purchase supplies to create coral fragments from the large coral colonies we have growing in our saltwater aquarium system.
---
AdoptaClassroom.org 2021 Drama Class - Brandon P
I used the very generous funds to buy things to support my unified arts (exceptional individuals) class. With the challenges that they face, I am always trying to find new ways to get the students to better understand some of the abstract and difficult areas of drama. I am also trying to work on teaching my students to follow direction, imitate, create and work as an ensemble. The objects I purchased were cardio drumming supplies to teach these aspects and to make them fun while we are learning. I am really excited to try all of this out with my students.
---
AdoptaClassroom.org 2021 Science Class - Brandon P
The generous donation was certainly put to good use in my class, I was able to purchase a new document camera to allow students to share their work with the whole class. This document camera will also allow me to share objects or text with the students, whether they are in my classroom or on remote learning. I am excited to use this new camera to share microscope views to the whole class at one time.
---
AdoptaClassroom.org 2021 Astronomy Class - Brandon P
Tara Yokitis, who teaches astronomy, said she will be able to buy more laboratory equipment in response to growing enrollment in her class.
---
Employees Show The Love!! - Jennifer K
Demonstrating they are more than a car company, Subaru retailers just concluded a two-year campaign that helped provide 2.25 MILLION meals to the Central Pennsylvania Food Bank's 27-county service area. In addition to giving financially, many dealerships also volunteered at the Food Bank's Healthy Food Hubs packing nutritious meals. Together, they packed over 350 boxes totaling 21,700 lbs. of food. The Central Pennsylvania Food Bank has provided more than 58 million meals to our neighbors in need since the beginning of the COVID-19 pandemic and thousands of those neighbors were facing food insecurity for the first time. Special thanks to Alexander Subaru and Subaru of America employees for showing their love to our community!
---
A Pandemic Can't Stop The Love - Jennifer K
The Central Pennsylvania Food Bank has seen an outpouring of support from the community that has been incredible. Thousands of generous individuals and companies have helped to Give Hope Now, but our work is far from over. The Food Bank has seen demand for food assistance increase more than 40% in the past year and expects demand to remain at these high levels for the next two years. With a "strong front" to combat hunger, the Food Bank and its more than 1,000 partner agencies and programs provided over 50 million meals this past year. But community support is what gets the job done - volunteering, donating and raising awareness all contribute to addressing food insecurity across Pennsylvania. Thank you Alexander Subaru for your generous donation of 123,896 meals to the Central Pennsylvania Food Bank. Together, we can end hunger. https://www.centralpafoodbank.org/
---
December 2020 Customer Appreciation Event Week 1 - David K
Blaise Alexander Subaru joined in a month long customer appreciation event to spread a little Joy this Holiday Season and to Say Thank you! Week 1 winner was Sherry Snook!
---