The 2020 Subaru Love Promise Customer and Community Commitment Award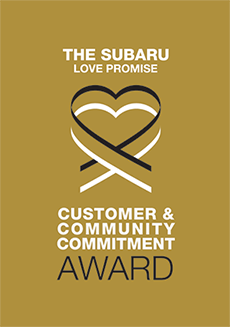 We've been nationally recognized for our dedication to our customers, our community, and the Subaru Love Promise.
We're honored to receive the 2020 Subaru Love Promise Customer and Community Commitment Award. This award nationally recognizes elite Subaru retailers who provide an exceptional customer experience at every interaction with Subaru. These retailers have also demonstrated an outstanding commitment to supporting passions and causes in their local communities in important areas such as the environment, community, health, education, and pets.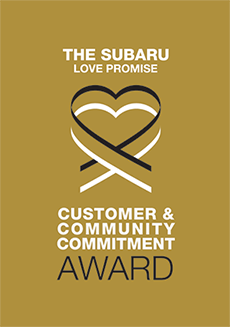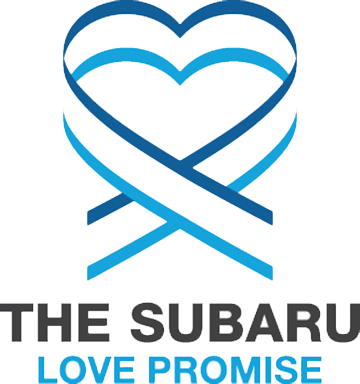 What is the Subaru Love Promise?
Subaru and our retailers believe in making the world a better place and the Subaru Love Promise is our vision of respecting all people. This is our commitment to show love and respect to our customers and to work to make a positive impact in the world.
How is Blaise Alexander Subaru Montoursville dedicated locally to the Love Promise?
Our Love Promise can be seen in various partnerships with local charities and non-profits. We're grateful for the opportunity, not only to be a part of our community, but to serve it as well.
LYCOMING COUNTY SPCA, Clinton County SPCA
Central Mountain Middle School , Loyalsock School District, Renovo School District, Jersey Shore School District
MARINE CORPS TOYS FOR TOTS, CLINTON COUNTY UNITED WAY
Love Promise Stories from Blaise Alexander Subaru Montoursville
Subaru and Blaise Alexander Subaru Montoursville believe in making a positive impact on the communities in which we live and work. We uphold that belief through our Love Promise Community Commitment. Every month, we select inspiring stories from customers and partners from around our area who strive to support our collective commitment and feature them here
A Pandemic Can't Stop The Love - Jennifer K
The Central Pennsylvania Food Bank has seen an outpouring of support from the community that has been incredible. Thousands of generous individuals and companies have helped to Give Hope Now, but our work is far from over. The Food Bank has seen demand for food assistance increase more than 40% in the past year and expects demand to remain at these high levels for the next two years. With a "strong front" to combat hunger, the Food Bank and its more than 1,000 partner agencies and programs provided over 50 million meals this past year. But community support is what gets the job done - volunteering, donating and raising awareness all contribute to addressing food insecurity across Pennsylvania. Thank you Alexander Subaru for your generous donation of 123,896 meals to the Central Pennsylvania Food Bank. Together, we can end hunger. https://www.centralpafoodbank.org/
---
December 2020 Customer Appreciation Event Week 1 - David K
Blaise Alexander Subaru joined in a month long customer appreciation event to spread a little Joy this Holiday Season and to Say Thank you! Week 1 winner was Sherry Snook!
---
Subaru Saves the Underdogs! - Jamie C
We here at the Lycoming County SPCA are grateful for the opportunity to partner with Blaise Alexander Subaru in the Share the Love event each October! This year, directly because of our Underdog Day on October 22, 2020, we had multiple new adopters come and rescue some of our shelter dogs and cats! This is Wade...he was one of the dogs adopted as a direct result of this partnership. He is doing very well in his forever home! Thank you Blaise Alexander Subaru and Subaru of America, Inc.
---
Blanket Delivery November 2020 - Dave K
Blaise Alexander Subaru delivering warmth this season to the American Rescue Workers of Williamsport as a part of a nationwide program with Subaru Loves to Help to deliver blankets to shelters. In attendance was Valerie & Mike Cain, and the Blaise Alexander Subaru sales staff.
---
Subaru Loves Pets 2020 - Dave K
National Make a Pets Day at Alexander Subaru, We had a fun afternoon with the Lycoming County SPCA and 2 lovable adoptees looking for homes! It turned out to be an informative day learning about the shelter pets in need and how we can come together as a community and help! Thank you to the SPCA Volunteers and Visitors for making it a great day!
---
Subaru Loves to Help 2020 - Dave k
During the month of June, Alexander Subaru along with the Central PA Food Bank to help supply meals for the Feeding America and to our local Salvation Army in Williamsport PA.
---
Subaru Loves to Learn 2019 - David K
2019 Subaru Loves to Learn book donation was delivery this past week to Jersey Shore Area School District. Alexander Subaru in Montoursville held the month long event and donated science related books the the school district on behalf of the customers' who purchased a brand new Subaru. In attendance from the school & dealership, left to right (front row) Sydney Bracey, Taylor Seyler, Chase Kershner, & James Spotts (students), left to right (back row) Katie Wert (Library Media Spec), Erica Bornemann (Admin Asst), Elizabeth Segraves (Asst Principal), Nate Allen (Team Leader), Steven Keen (Principal), Jennifer Rieck (Library Asst) 12/11/19
---
Subaru Loves to Care 2019 - David K
Patients of the UPMC Hillman Cancer Centers in Williamsport and Wellsboro will benefit from a recent donation of comfort items like blankets and notes of encouragement thanks to Blaise Alexander Subaru and The Leukemia & Lymphoma Society. This is the third year that the organizations partnered for their donation. Pictured from left are Laurie King, UPMC Hillman Cancer Center; Cindy Zellers, Blaise Alexander Subaru; Stephanie Steinbacher, Susquehanna Health Foundation; and Erica Bornemann, Blaise Alexander Subaru.
---
Share the Love 2018 - Dave K
Thank you to All of our Customers' in 2018 for making this Share the Love year our Largest year yet for First Community Foundation Partnership of PA!
---
Clinton Co. Annual Customer Appreciation Day 2018 - Dave K
2018 brought another Wonderful year for Alexander Subaru! To celebrate, we hosted our 4th annual Customer Appreciation Day at the 16th Street Park in Renovo, PA. To continue our traditional we hosted a pig roast all day for our past, present, & future customers! The crowd brought over 400 attendees throughout the day! Our biggest year yet and looking forward to continuing to say Thank you every year!
---
Spring Awards for Alexander Subaru - Dave K
In March we were presented with two awards; The 2019 ALG Residual Value Award for Impreza, Crosstrek, Forester & Outback and the 2019 Subaru Love Promise Award for Customer Commitment! A wonderful start to 2019, and more reasons to thank all of our past, present & future customers'. They are all the reason we are here which is why we want to give them a product that proves to be both reliable and safe year after year for their families and ours!
---
Award Day at Alexander Subaru - Dave K
Great day for the Alexander Subaru Family! The Representatives of Subaru delivered the Subaru Love Promise Customer & Community Commitment Award to our dealership!
---
Blaise Alexander Subaru Shares the Love - Victoria B
The Leukemia & Lymphoma Society's (LLS) Central PA Chapter was proud to partner with Blaise Alexander Subaru in June during Subaru Loves to Care month to provide support to patients fighting cancer. The love and warmth that the Subaru blankets provide became a powerful community gesture on this delivery. While delivering blankets in the transfusion center, a patient named Joyce shared with us that she and her family are HUGE Subaru fans, having owned Subaru's for many years! Her mother recently purchased a new Subaru Forrester. As Garrett handed her a blanket, Joyce's husband shared that only a moment prior to our arrival Joyce had expressed that she felt chilled due to the treatment she was in the process of receiving. Joyce and her husband expressed tremendous gratitude to Garrett and the Subaru team, stating that this thoughtful gift means so very much to them and the community. Thank you, Subaru, for bringing warmth, love and hope to patients in our communities through Subaru Loves to Care!
---
Subaru Loves Learning September 2017 - Dave K
Alexander Subaru Family met with Loyalsock Area Middle School to deliver 150 books from Subaru of America and the American Association for the Advancement of Science! Thank you Dr. Chad Greevy, Principal for welcoming us today and we wish many years of reading enjoyment to All of your students!
---
Alexander Subaru Shares the Love to Patients - Tara R
The Leukemia & Lymphoma Society's (LLS) Central PA Chapter was proud to partner with Alexander Subaru in June during Subaru Loves to Care month to provide support to patients fighting cancer. The General Manager, Dave, and a Subaru employee, Erica, delivered the beautiful blankets, kids craft kits, bracelets and care cards to the UPMC Susquehanna Cancer Center. Dave and Erica were provided the opportunity to hand deliver warm blankets to the patients in the oncology waiting room and transfusion center. There were 15 cancer patients receiving treatment in the transfusion center upon our arrival. The patients and their loved ones were extraordinarily grateful as Dave and Erica distributed the blankets and shared that Alexander Subaru and their community is here to support them. The Alexander Subaru delivery was particularly powerful as a result of an extraordinary encounter. While delivering blankets in the transfusion center as patients were receiving their treatments, a patient named Richard shared with us that he is currently receiving financial support from LLS. He was humbled to express gratitude to LLS in person for providing him the ability to afford lifesaving treatment. He was incredibly thankful and appreciative to have Alexander Subaru and LLS partnering together. Thank you to Alexander Subaru for providing love and warmth to local cancer patients!
---
First Community Foundation Partnership - Dave K
Kick off day for our local Raise the Region 2017 was hosted at Alexander Subaru starting at 4:00 am. FCFP was our Share the Love recipient this year. The local news station was here WNEP and the host Ryan Leckey and quite a few of the groups that were included in their donation drive we in attendance and excited to get things moving for our region!
---
Subaru Loves Pets 2016 - Dave K
It was a fun month hosting a cat & dog adoption events for the Lycoming County SPCA! The shelter animals had lots of fun visiting and educating the customers. Some of the furry visitors ended the month with forever homes and a great start to their new year!
---
Stellar Care 2017 Customer Sales & Service - Dave K
On February 14th 2017, we received our Stellar Care Award for another great year of Customer Service & Sales! We are so proud to be recognized for the excellent care we extend to All of our customers'!
---
Blanket drive for local Cancer Center - Dave K
Blaise Alexander Subaru delivered much needed blankets to cancer patients at the Susquehanna Health Cancer Center in Williamsport, PA. We had a warm welcome from the employees and lots of greetings to deliver to the patients of the Center.
---
Giving Back to our Community! - Dave K
Blaise Alexander Subaru giving back to the community by delivering books to the students of Renovo Elementary and Bucktail Middle & High School. During the month of August at the Subaru dealership, the staff and customers worked together to create this book donation for the children of the school to supply their library with new science books.
---
Veterans' Day Lunch! - Dave K
We were proud to host a lunch for our local Veterans' retired and active duty!
---
Subaru Loves Learning - Dave K
Subaru Loves Learning came to a close today at Blaise Alexander Subaru. With special thanks to our customers' who helped us prepare the books for the students at Montoursville High School, American Association for the Advancement of Science, Subaru of America, and Blaise Alexander Subaru. Here to deliver the 150 books from Montoursville High School students' was Dr. Timothy Bowers and Kim Sauers. We would like to say a huge Thank you to all who helped!
---
Subaru Loves Learning Book Drive - August 1-31 - Molly M
Join us in our Subaru Loves Learning initiative during the month of August! We are partnering with the American Association for the Advancement of Science (AAAS) in donating science books to Montoursville Area High School. All of the books that will be donated have been recognized by AAAS as some of the best science books in their field. Contact us to learn more information.
---
Alexander Subaru presented the Stellar Care Award - Dave K
05/12/15 Today was a Great Day at Blaise Alexander Subaru! We are proud to receive the Stellar Care Award. It is to recognize a Subaru dealership's dedication to delivering an outstanding customer experience. Only 20% of the Subaru dealerships in the USA receive this award, and we are proud to be one of those 20%! Our presenters were from Subaru of America, also attending the celebration was Blaise, Aubrey & Adam Alexander and all of the Alexander Subaru Staff! Thank you so much to all of our loyal Subaru customers!
---
E-Waste Recycling Event - Dave K
During the month of April, we held the E-Waste Recycling Event at our dealership. We had four huge cardboard boxes sent to us to fill with electronics. One of our amazing customers personally collected enough electronics to fill her Subaru and one entire box. The remaining three boxes were filled periodically throughout the month by customers and local residents that had items to be recycled. This was an amazing way for us to help the environment and reduce waste. This was a great success for our dealership to be able share this opportunity with our community. A huge thank you to all who helped!
---
Pete & Donna Rathmell - Dave K
The Rathmells travel in their 2015 Subaru Outback to do wildlife shows and exhibits for Veterans. Pete is a retired Biology teacher and a retired Deputy Wildlife Conservation Officer for the state of Pennsylvania. Part of Pete's job, as a Conservation Officer was to collect the illegal or road kills. He has used these as teaching material and exhibit material for his shows. Pete, Donna and their families have had 20 Subarus and they have recommended buyers to Blaise Alexander Subaru in Montoursville PA throughout their years as our loyal customers and personal friends of the community.
---
April 1-30, 2015 E-Waste Recycling Event - Molly M
Throughout the month of April, we are hosting an E-Waste Recycling Event in our store to collect unwanted electronics. We've arranged to work with a company who will responsibly collect, re-purpose, and recycle your electronic waste. Help us protect our environment. Just show up with your E-Waste and we'll do the rest! The first 50 customers who contribute will receive a complimentary environmental badge of ownership. We will accept: LCD Monitors, Cell Phones, Laptops, Tablets, CRTs up to 40, Video Games/Consoles, Fax Machines, DVD/VCR Players, Printers, Computer Peripherals, Switches/Routers, Cords and Wires.
---