Blaise Alexander Subaru's Military Incentive Program
At Blaise Alexander Subaru, we value our armed forces that have given so much for our country, and as a small token of our appreciation, we offer the Subaru Military Discount Program. We are proud to offer this program that helps our military customers get behind the wheel of a rugged Subaru model.
---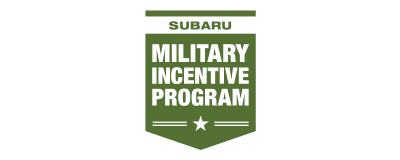 This offer is extended to active-duty and reserve members of the U.S. Air Force, Army, Navy, Marines, National Guard, and Coast Guard, as well as veterans and retirees within 12 months of your date of separation. This allows for a large pool of military members to take advantage of a deal that saves you money on a new Subaru.
After choosing a new Subaru model and negotiating your best price with our sales team, you will receive an additional $500 discount. Keep in mind that your price can be further reduced by any applicable zone or regional cash incentives in effect at the time of purchase. All you need is to bring verifiable proof of your military status and active service.
---
And just like that, you can save money on a new Subaru! If you have any questions about the program, just contact us, and we would be happy to answer any questions that you have. Schedule a test drive today knowing that you can receive $500 off a Subaru without any haggling!